Solo Nylon String Guitar Compositions by Tom Salvatori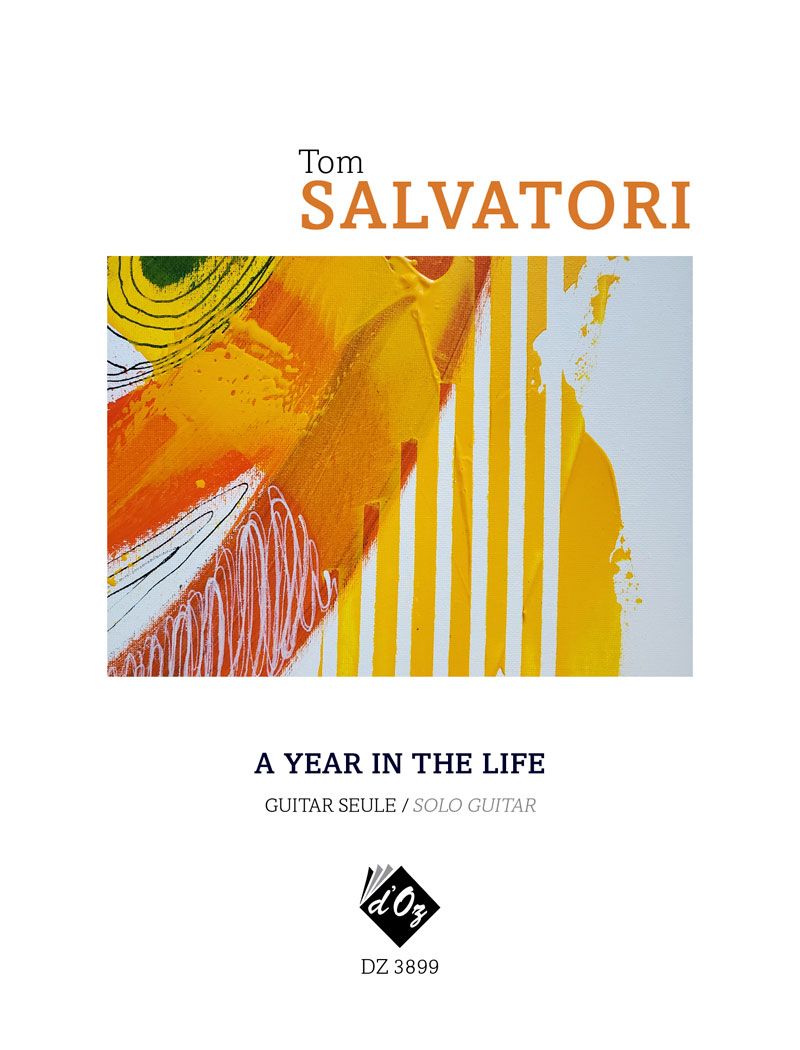 A Year in the Life is an album of all-original solo nylon string guitar compositions conceived to evoke the nature and sentiment of each appropriate month of the year. I compose in a very visual manner, which helps me memorize each piece prior to recording it. In constructing the album theme for 'A Year in the Life,' I was focused on visually and audibly capturing a compositional sense of each month of the year as it relates to something that was both thematic and 'guitar-istic'…quietly enjoy! - Tom  
01 January - Resolutions  
January is traditionally a month of New Year's resolutions, so not only is January's composition entitled 'Resolutions,' but it is composed in a manner that every phrase in the piece resolves  
02 February - Wouldn't it be Great  
February is the shortest month, so it may sound like a no-brainer, but I abbreviated my composition for February to be the shortest piece on the album  
03 March - The Roads Leading Home  
March is a month of spring break trips and holidays…I have always felt that the best parts of taking a vacation are 'The Roads Leading Home'  
04 April - Evening Waltz  
April is the month of renewal, new growth, and a season for falling in love and is thus underscored by a beautiful 'Evening Waltz'  
05 May - Springtime Suite  
May is traditionally a month of flowers in bloom, school graduation parties and the launching of ambition, so I present my most ambitious eleven-minute, four-part 'Springtime Suite':  
i. Impressions of Satie - a nod to the half-step minimalism of French composer Erik Satie  
ii. Yes Riffin' - a nod to Steve Howe of the progressive rock band YES; one of my favorite guitarists  
iii. Turtle Crawl - the fingerings utilized to play this piece literally make your hand look like a turtle crawling up and down the neck of the guitar  
iv. Sad Ending - there are many things in life that we start with unbridled enthusiasm and optimism without any consideration to how they may end. This piece acts as a reminder to always add an exit strategy to your planning; preferably one that doesn't burn bridges  
06 June - Head Fake, Low Shot  
June is the month that traditionally crowns the National Hockey League's Stanley Cup winner and I pay reverence to the Chicago Blackhawks 2010 Cup winning goal with a piece called 'Head Fake, Low Shot.' Ask any Chicago Blackhawks fan what that title means to them individually and they will tell you the story of Patrick Kane's nifty Stanley Cup winning goal with tears in their eyes. The opening four-note sequence in this piece was cemented in my memory by attaching the four words "Head Fake, Low Shot" as a lyric (which only existed in my head, thank goodness…) to help memorize the piece. If you want to know the whole truth, I still have the butt from the cigar I smoked as a memento of the celebration from that wonderful night!  
07 July - Pamplona  
July is the 'running of the bulls' month in Spain. 'Pamplona' was composed to represent this event and visual images my mind conjured to help memorize this piece was of people quietly traveling to Spain from all over the world (verse part) and then participating/being swept away by viewing the enthusiasm and euphoria of the actual street event (chorus part)  
08 August - Waiting on Tomorrow  
09 September - Father Time is Calling  
10 October - Yesterday's a Day Away  
11 November - Reminiscing  
'Waiting On Tomorrow' (08-August), 'Father Time Is Calling' (09-September), 'Yesterday's A Day Away (10-October) and 'Reminiscing' (11-November) are all titles correlated to lyrics I had in my head to assist in the visualization and memorization of each piece. When I assembled the collection of pieces for these four months, they also came to represent the 'Golden Years' of life respectively when things like Waiting On Tomorrow (planning to retire), Father Time Is Calling (my ode to advanced aging), Yesterday's a Day Away (overcoming life's regrets), and Reminiscing (recalling life's greatest moments) are common thoughts that often manifest the 'Autumn Days' in our lives  
12 December - Almost Christmas  
December is the month of Christmas holiday greetings and to that end I present an understated medley of Christmas songs gently woven into a somewhat threadbare original composition  
Featured Excerpts:  
Good King Wenceslas - 13th Century Finnish Spring Carol (Tempus adest floridum), Anonymous  
O Tannenbaum – 16th Century Silesian Folk Song, Melchior Franck  
Deck the Halls – 16th Century Welch Yuletide Song, John Thomas  
13 New Year's Eve - Turning into New Year's Day  
As a special 'baker's dozen' bonus, I present the solo nylon string guitar instrumental version as a 'prequel' of a song that I composed called "New Year's Eve, Turning into New Year's Day"…which is a full-on They Might Be Giant's-inspired rollicking rock-based party song (yes, music and lyrics) which is ready, willing and awaiting the right rock band to step up and record it!